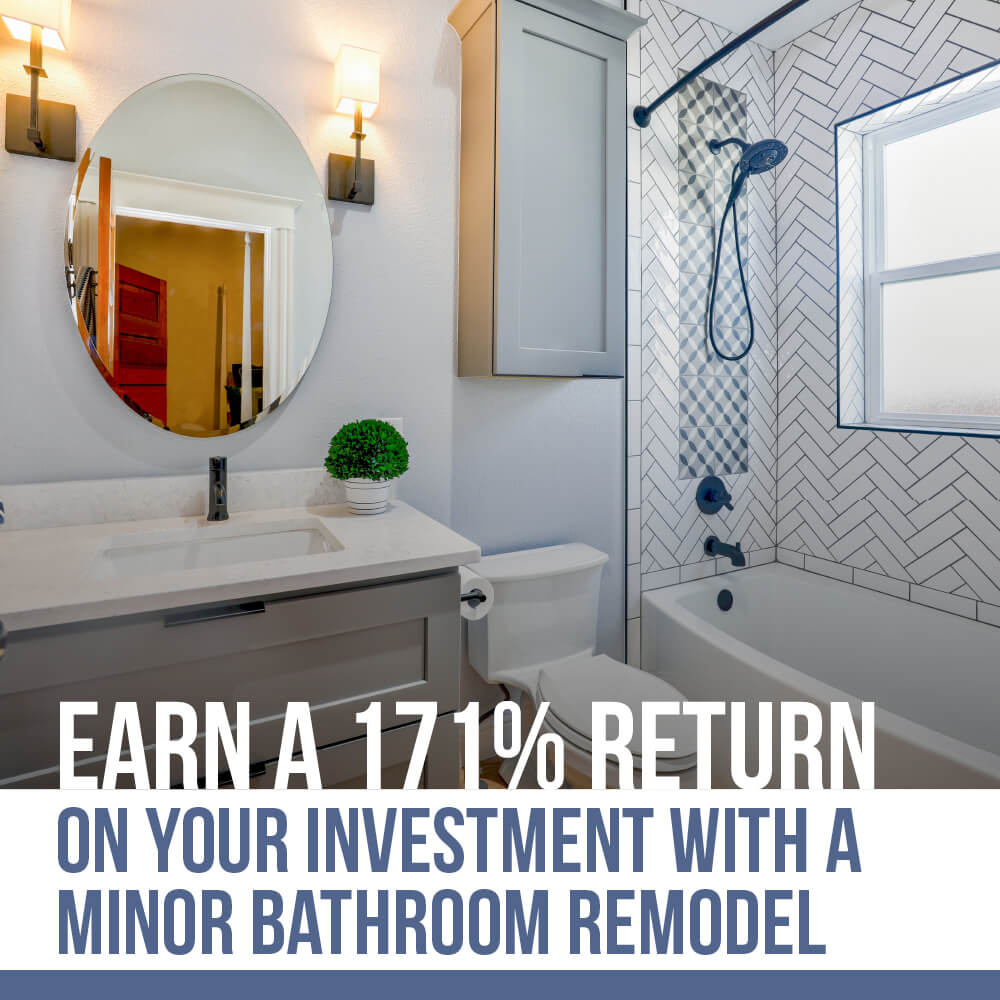 [Instagram] Earn A 171% Return On Your Investment With A Minor Bathroom Remodel
Looking for ways to boost your home's style AND value? Minor bathroom remodels offer one of the best average returns on investment, with a $1.71 increase in home value for every $1 you spend.
Here are 4 great ways you can update your bathroom on a budget:
PAINT WALLS AND CABINETS 🛠️
Maximum your return at resale by sticking with a neutral color palette that will appeal to a broad range of buyers. 
REPLACE OUTDATED FIXTURES 🛠️
Swap dated light fixtures, faucets, and cabinet hardware for modern and stylish alternatives.
UPGRADE YOUR BATHROOM MIRROR 🛠️
Replace, refinish, or add a custom frame to a basic vanity mirror. 
MODERNIZE YOUR WINDOW TREATMENTS 🛠️
Trade your old blinds for plantation shutters, which are energy-efficient, durable, and have strong buyer appeal
Looking for more simple projects that can boost your property's value? Contact us to schedule a free virtual consultation. We can help you maximize the return on your effort and investment!
#realestate #realtor #realestateagent #realestatetips #realestategoals #realestatemarket #homesearch #homebuyer #homeseller #diy #diyhomedecor #diyprojects #bathroom #bathroomremodel #bathroomdesign #bathroomrenovation
Customizing the Post
The Call-to-Action (CTA) in the post caption is the part that tells your reader what to do next, which promotes engagement. Consider adding or customizing CTAs in your posts, especially if you intend to use the "Extra Resources" linked on this page. For example:
On Instagram, use the phrase "Link in bio" in your post caption to refer people back to the link on your account profile. This link could be to a blog post, a landing page, or whatever makes sense in the context of your post.
On Facebook, include a clickable link right in the post caption itself. Write something like "Click the link below for more info."
Sharing the Post
This post is a square format, which means it is best used on Facebook and Instagram. Refer to the links below for how to post to each platform.
This social media post references a Monthly Value Program (MVP) campaign. Get the blog post, report, and other marketing collateral from this campaign to complement this social media post at the link below.
Click the buttons below to download the post image, copy the caption and hashtags to your clipboard, and then share it to social media.
This post is optimized for Instagram and Facebook. Refer to "How to Use This Post" above for more sharing instructions.